Topics about Sunstar Engineering's social contributions -vol.1-
Dec 17, 2020
Sunstar Engineering undertakes social contribution initiatives by communicating with stakeholders in all countries and regions where group companies operate, as well as widely contributing to society through its business activities.
Let us introduce some topics as follows.
Chili Cook Off to raise donations & Sponsorship for Robotics Team competing in Lego League Jr. division in the United States
Every year Sunstar Engineering Americas holds a Chili Cook Off to raise donations for area Food Pantries. Some of employees cook the chili and their fellow employees judge on different categories. On January 17, 2020 their 5th Chili Cook Off was held. This year the company asked employees attending to donate non-perishable food items for The Pantry. The Pantry is a local food pantry that services the cities of Franklin, Springboro and Germantown.

Moreover, Sunstar Engineering Americas has sponsored a young female robotics team who competes in the Lego League Jr division the past two years. They competed in two Expos held at Wright State University this year. The team had to build a functioning environmentally friendly building. Each year, the group will come to Sunstar Engineering Americas for a presentation.

Donations of child bicycles and sweets as lucky draw gifts for needy children on Children's Day in Thailand
In Thailand, the second Saturday of January has been announced by the government to be a Thai National Children's Day since 1965 by invitation and initiation of the United Nations. The main objective is to enable the public to realize the importance and needs of children and to encourage children to realize their essential roles for society and country.
On January 11, 2020 which is this year's National Children's Day in Thailand, many organizations held fun fairs to entertain the surrounding needy children with games, music, lucky draws, etc. As a manufacturer located in Bangpoo area of Samutprakarn Province, Sunstar Engineering Thailand Co., Ltd. (SET) always realizes and feels indebted to the mother land and community. Therefore, we've been prepared to contribute to society whenever the opportunities come.
Bangpoo Police Station, which is a local police station in charge of Bangpoo area, has been organizing a fun fair on Children's Day since 2010. On that particular day, foods would be supplied free of charge for impoverished children and their parents living around the area. At the same time, enjoyable games and lucky draws mainly sponsored by business entrepreneurs would be also arranged.
On this year's fair on January 11, 2020, SET donated child bicycles and confectionery products to the Police Station as lucky draw gifts as we did last years. Participated children who got the bicycle looked very happy.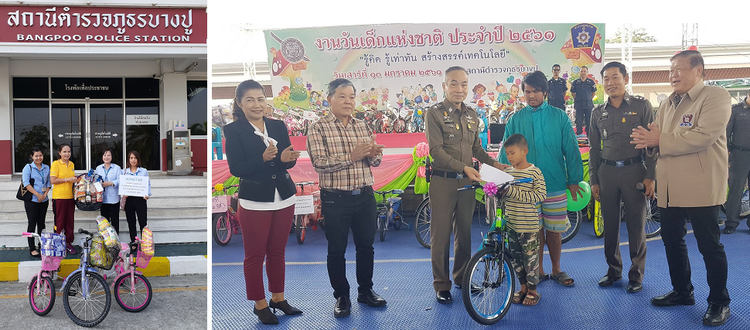 The Sunstar Group will work to realize a sustainable society and a healthier and more comfortable lifestyle for people all over the world.