Topics about Sunstar Engineering's social contributions –vol.2-
Dec 18, 2020
Sunstar Engineering undertakes social contribution initiatives by communicating with stakeholders in all countries and regions where group companies operate, as well as widely contributing to society through its business activities.
Let us introduce some topics as follows.
Donations to "Ojek", Indonesian Bike Taxi drivers in trouble due to Covid19 Social Restriction.
Due to the Covid19 pandemic situation, Indonesian economy has been damaged quite hard. Many kinds of industries and businesses have been forced to shut down or reduce their personnel through layoffs etc.
This also includes those who are called "Ojek", which are recognized as "Bike Taxi". As a mean of countermeasure towards Covid19, Indonesian government has implemented "Large Scale Social Restriction" policy (quite similar to Singapore's Circuit Breaker or Japan's Emergency State), where it states that the bike is not allowed to carry people as passengers. This rule has caused a big drop in the Ojek business, resulting in a big movement to give a donation to the Ojek drivers. Sunstar Engineering Indonesia also gave a donation to the Ojek drivers in the areas around the company, as bags of rice, sugar and other daily necessities in May, 2020.
Besides, in 2019, Sunstar Engineering Indonesia also donated IDR 15 Million for helping the victims of the disaster of Tsunami triggered by a volcanic eruption of the "child" mountain of Krakatau Mountain, by giving rice, foods, bags and other daily necessities.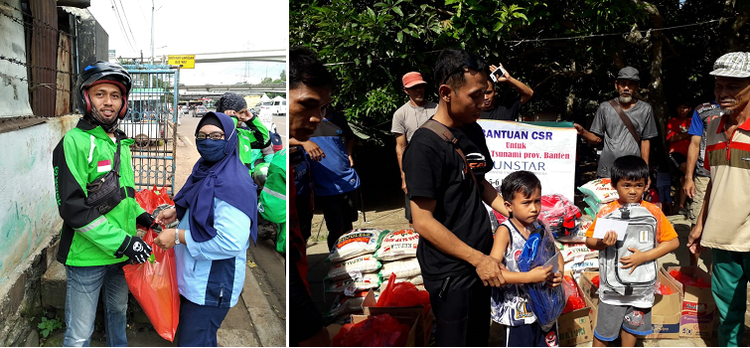 Cleaning activities at Lake Biwa and Mt. Fuji in Japan
In Shiga Prefecture, it's designated July 1st as "Day of Lake Biwa" and also in the "Shiga Prefecture Environmental Basic Ordinance" and "Environmental Beautification Day". Therefore, around this day, environmental beautification activities are carried out in various parts of the prefecture.
Shiga Plant of Sunstar Engineering has been participating in the "Biwa Lake Beautification Movement in Otsu Area" held every July. Even though the scale was reduced due to the coronavirus, Our Shiga colleagues participated in the cleanup activity on July 1st this year.
In addition, at the Yamanashi Plant of Sunstar Engineering participates in the "Mt. Fuji Environmental Beautification and Cleaning Activity" in August every year, and conduct enlightenment activity to encourage mountaineers to bring back their trash while picking up trash near the 5th station of Mt. Fuji. However, this year's event was canceled unfortunately due to the influence of the coronavirus.

The Sunstar Group will work to realize a sustainable society and a healthier and more comfortable lifestyle for people all over the world.